by Talal "Trip" Albagdadi
All small businesses should be making an effort to improve their page rankings as our economy of choice is now dominated by search engines.  A page rank indicates which page and where on that page your business name and Web site appear when someone performs a standard online search.  Consumers often search for very specific localized items through Google and Bing.  The closer your business is to being on the first page of a standard Google search the more Web traffic your business will get.  Even if you run a brick and mortar business with a standard storefront, additional Web traffic is essential as it leads to additional foot traffic.
One way small businesses can work to boost their Web traffic is through SEO (Search Engine Optimization) and one of the methods used to achieve a higher page rank is through the use of backlinks.  Backlinks are simply links from other Web sites back to your primary business Web site.  These backlinks are important to search engines such as Google and Bing because they affect how your site is rated.  The more backlinks or inbound links that your business site has the higher your page rank will be with all search engines.
There are several ways to create backlinks some of which include the following:
Purchase – it should be noted that there are a wide variety of online services available that will charge you to create backlinks.  Buyers should beware as there are quite a few internet scams out there when it comes to creating backlinks.  If you choose this option make sure to do your homework before you commit financially.  The major advantage here is that you don't have to create them yourself and can focus on running your business.
Articles – writing or outsourcing an article that features your business is a relatively inexpensive way to acquire backlinks.  Once your article is produced you would submit it to an article directory and when it is published to that directory the backlink would be created.  Some popular submission sites include ezinearticles.com, suite101.com, articlebase.com and helium.com.  There are many more and a thorough local search will yield the best choices for your type of business.
Reciprocal – these are mutual links that you agree to create with another business or Web site.  They create a link to your site and you would then create a link to theirs.  This is also relatively inexpensive but can take some time as coordination is required as well as manual entry or edit of your business Web site and theirs. It should also be noted that reciprocal links are not given as much weight as standard "follow" links by the primary search engines.
Link Directories – these are online directories that you submit your site to.  Some are free and some charge for the service.  This can also be time consuming as it takes time for processing and approval.  Some popular choices include dmoz.org, dir.yahoo.com, cannylink.com, mavicanet.net and gimpsy.com.
Pursuing backlinks through any of the choices above will not guarantee a higher page rank if the sites you work with are not relevant.  Quality backlinks should relate to the business you are promoting.  A construction firm should not be creating hundreds of backlinks within online yoga forums and directories as this would be considered spamming.  Quality backlinks also come from highly ranked sites.  Google has a 10 point rating system and backlink sites are often referenced based on their score.  An example of a Page Rank 10 (PR10) site would be cnn.com as it is one of the most popular sites on the Web.  Some PR9 sites would include flickr.com and wordpress.org as these are sites that receive 9 out of 10 possible points from Google.  Example PR8 sites include java.com and mapquest.com.  The higher the site's point score, the more valuable the backlink.
Finally, the links should be "follow" links or standard anchor tags.  These are links that lead directly to your Web site.  In order to combat spam Google has created "no follow" links.  These are useless as they don't add any value to your page rank.  Bloggers often use the "no follow" tag to deter spammers who try to post backlinks to their Web sites in their comments section.  Sometimes scammers will charge you for a "follow" link and then change the code posted to a "no follow" link after payment is made.  Again, the buyer should beware and a few minutes of background research can save time as well as money.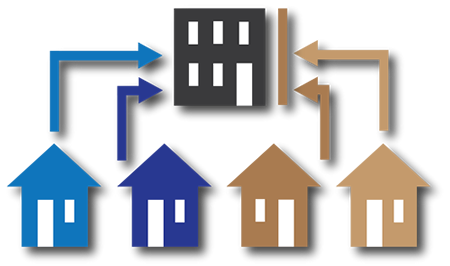 Here's what the code looks like for a standard "follow" link:
<a href="http://www.arizonastreet.com/myblockseo/">My Block SEO Blog</a>
Here's the code for a "no follow" link:
<a href="http://www.spamnation.com/ rel="nofollow" ">Spam Nation</a>
For those of you who aren't familiar with HTML simply ask your Webmaster or service provider if proper "follow" backlinks are being created.
Backlinks are only one of the many factors that search engines consider when ranking your small business Web site.  Creating meaningful and quality content at your Web site will always be the best way to generate new as well as repeat traffic.  Pursuing a higher page ranking through ethical means should be the principal approach for long-term success.  Google and other search engines will continue to help consumers find what they are looking for.  Your job as a small business owner is to make sure customers can find you when they need to.
Thank you for spending time at My Block SEO